WHAT IS THE BRAND'S BIGGEST PROBLEM?
UNLIMITED: Brand Growth and Development
Many entrepreneurs don't have the time to spend on developing and growing their brands.
With regular monthly action plans and execution, I help you to a continuously growing, more profitable brand and more free time.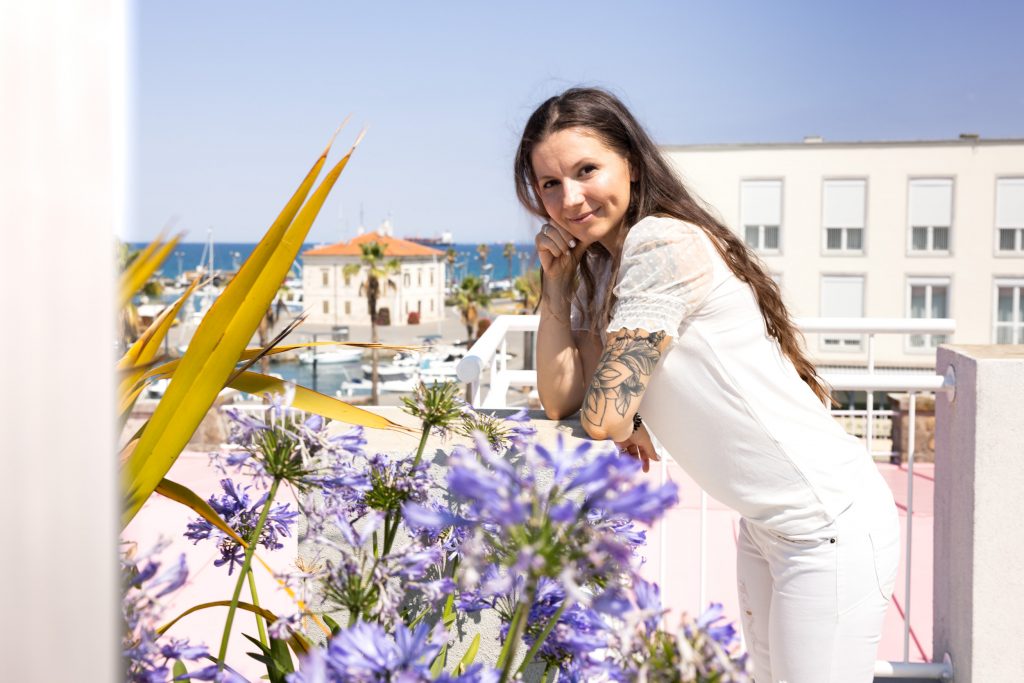 Do you want an "in-house" designer to design what you need?
Or someone to brainstorm with you about the monthly brand growth and then implement it?
Developing and growing a brand is not easy without the right help. And I understand you completely.
↓
After when we work with clients, there is often a problem – they need extra help after they have launched their website, for example.
→ Or they have additional materials to design that they want to look top-notch.
→ Or just need additional ideas in marketing.
→ Design and set up a new landing page with a new offer.
→ Add a new blog post.
→ Strategically plan blog and social posts.
→ A pair of second eyes to look at the text and give an opinion.
→ Technical support at online events.
….
And on the one hand, it's overwhelming for the clients, and/or on the other hand they don't know what they're doing and they just want to delegate.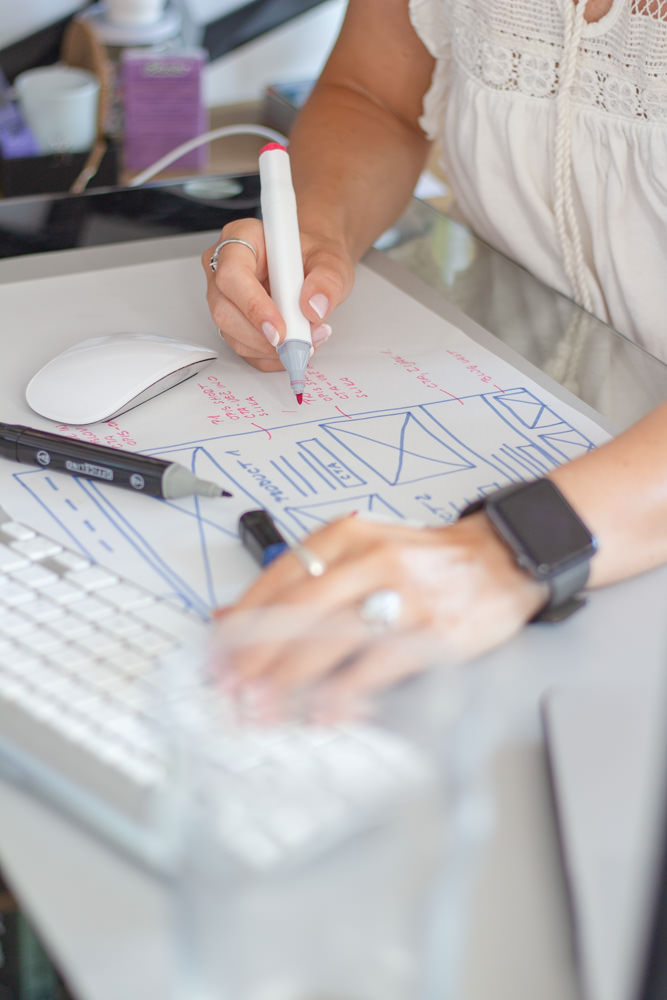 What if I told you that there is a way that you can get help and grow your business to a new level – EVERY MONTH – without hiring a web designer and webmaster?
And these are the things that take a brand to the next level faster.
Strategy, design, and website implementation go hand in hand.
I'd be willing to bet that if you don't have staff or support with website design, editing, and marketing, you'll often find yourself with…
↓
lack of time (because you want to do everything yourself or you need a million revisions with a new designer every time to make it look brand-appropriate);
↓
unnecessary stress (you're spinning your wheels trying to figure out which marketing strategy will be profitable, or throwing spaghetti at the wall trying to figure out which will stick);
↓
a big minus in revenue or lost business opportunities (because you simply don't have the time, will, or energy to acquire new customers).
Sometimes growing a brand seems almost impossible, especially if you don't have a clear plan and the support to build your business to the next level.
There is no magic wand to help grow a brand…
…So it's time to say "YES" and give yourself the gift of help to create an unlimited brand. ⤵
Stop wasting time (because it's the only thing we can't get back).
And waste big monthly opportunities to grow and develop your brand.
It's time for your brand to become…
↓
UNLIMITED
Brand Growth and Development
---
1:1 strategic support and execution to grow and develop your brand.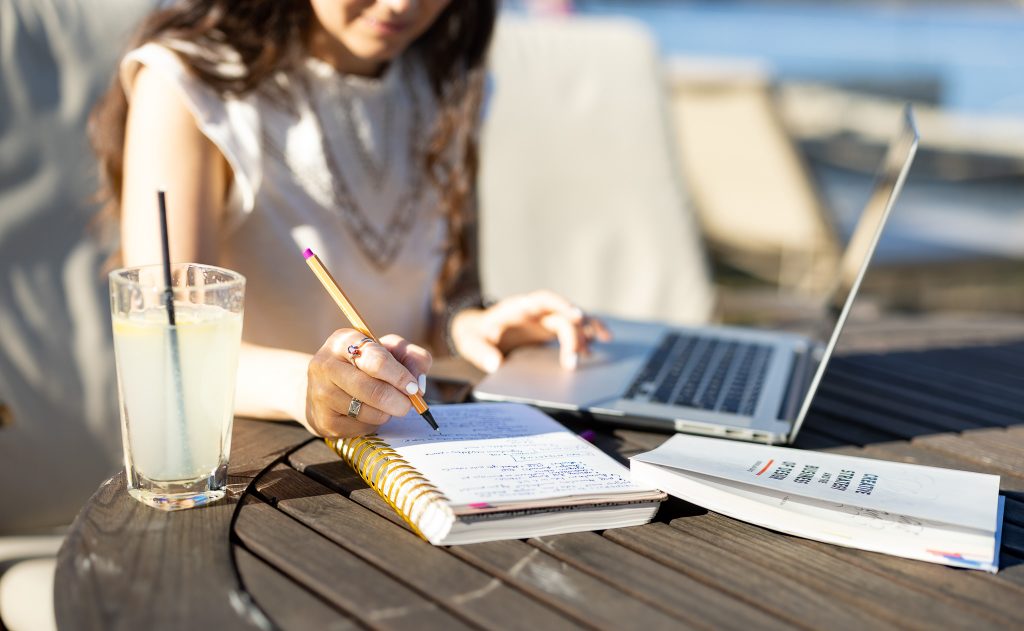 Where every month we make a strategy and I execute it (yes, strategy and execution in one place) so that your brand grows consistently, you have more satisfied customers and you save more time doing what's important to you.
UNLIMITED
HERE'S HOW IT WORKS WHEN YOU JOIN
↓
01
MONTHLY SUCCESS PLAN
✓ 30 min monthly 1:1 consultation on the first Monday of every month to plan the promotion or other activities for the successful month.
✓ Additional ideas and strategies for the slower months (tailored to your business) to help you make even the slower months more profitable or a good start for further projects (what would be implemented is entirely up to you).
✓ A strategic plan for the month to help you be crystal clear on what the focus of the month is and what needs to be done to achieve it.
02
33 POINTS FOR SUCCESS
✓ 33 points to use each month, depending on the needs of that month. You can use them for design, website editing, adding a new funnel, strategizing a new campaign, and execution… It's like having a designer, strategist, and website expert in-house.
✓ A list of possible tasks and the value of each task in points, so you can always plan your investment for the next month (no limit to the points, other services are possible upon agreement).
03
BONUS: ​​Simplify Your Business
✓ Access to the "Simplify Your Business" online course to organize your business into an organized and automated whole that will generate a lot of free time and profit for you.
04
BONUS: An email signature designed for you
✓ An email signature tailored to you, which will exploit the full potential of the signature (because its function is not just for beauty, but also to help convert customers and strengthen relationships).
1
---
MONTHLY SUCCESS PLAN
The first Monday of the month is the time for strategic planning, what will be the focus of the new month and how we can bring the brand to a new level.
2
---
CHOOSING A TASK FOR IMPLEMENTATION
Depending on the set plan, you choose the works that I do for you.
You have 33 points available for this part, each service is worth a certain number of points. How many points you need for each service is known and agreed in advance, so you always know how many points have been used. You can also use them for on-the-spot, unplanned work.
3
---
IMPLEMENTATION FOR A SUCCESSFUL MONTH
Everything agreed, then I will do it for you. If you need an unplanned additional service in a month (e.g. creating an ad or a new sales page…), you can also use the points in this way.
For non-agreed services, all you need is to let me know in advance.
I have a long history of working with customers, and they have told me that…
↓
Intimi and kundalini yoga
Sandra Laznik
THE MAGIC FAIRY OF THE INTERNET
In the last three years, I have spent more than 15,000 euros with various "web designers" and none of them could even help me out 5% of the time, advise and get things done as quickly and kindly as Maja did. Every comment, constructive information and wish I gave her, she diligently reviewed and followed up. Not to mention her graceful precision, absolute organisation and systematicness, which inspires you to "brush things up" (that's what we say in Savinjska). I appreciate her honesty and I can't wait to keep her busy with more work.
photographer and videographer
Sara Tekavc
I usually know exactly what I want, even if I want something different the next day. But I know exactly what I want, and I work it out as I go along, because I always have another bunch of ideas. And when I know exactly what I want again, the next day I remember something else. In the midst of all that I want, I sometimes write with a bit of bad conscience:
Maja, please put all this away and do it like this 🙃…
She replies:
That's it, it's ok?🙂
Me: Wooow, yeah, thanks a lot!! But you know what else I'd … 😅
Well, that's how good business is done. Responsiveness, testing, developing, testing, trust, creativity, directness.
Well done Maja! Ps: But you know what else we're going to … 😎 🤙
author of The Vegan Handbook
Barbara Kokelj
I was hesitant about whether I needed a website. I can see that without it, you are not visible. Everyone to whom you present the project in person or by e-mail goes to see the website to be sure and to look at all the content in peace.
I'm glad I chose you, I really am.
psychologist, coach, mentor, lecturer, and researcher
Mateja Videčnik
Maja, you're a great choice. She has a friendly energy, gently guides you through your tasks, takes time for you, and answers all your questions quickly and understandably.
So… what can UNLIMITED do for you and your business?
With regular monthly action plans and execution, you can get a constantly growing, more profitable brand and more free time.
It also helps you…
✓ Increase the number of customers (not just followers) who will be happy to come back;
✓ take the pressure off the technical parts of the business and graphic design to focus on the work you are passionate about,
✓ increase traffic and visibility in front of more of your ideal customers to make sales flourish even more;
✓ support and encouragement when your motivation and energy wane (we all have those periods).
Join UNLIMITED: Brand Growth and Development as soon as possible, due to 1:1 work, vacancies are very limited.
↓
1 | MONTHLY SUCCESS PLAN
Value: 250€
2 | 33 POINTS TO SUCCESS
Value: 1500€
3 | BONUS: ​​Simplify Your Business
Value: 159€
4 | BONUS: An email signature designed for you
Value: 50€
---
Your investment: 1959€ 500€/month
Minimum 3-month, points are not transferred between months.
WHAT'S NEXT?
1
---
Click on the "BOOK FREE STRATEGIC CONSULTATION" button, fill in the form and choose the date that suits you best.
2
---
Join me for a strategy consultation to see if we are the right fit.
3
---
We sign the contract and start the project.
WHO WILL BE WITH YOU?
Hey, my name is Maja.
And I believe that everyone should do what they enjoy and are good at. And leave the other things to others.
Well, my passion is graphic design and websites that have a purpose and a mission (supported by a strategy).
I only work with brands that have at least a basic vision for their business. Brands that care about making our planet and life better. Usually, these are in the areas of wellness, wellbeing, and culinary, but not strictly limited to these areas.
I work with most of our clients on a long-term basis and I believe that by helping each other, we grow together.
The sky is the limit (or not even that 😉 ).
FAQ
Is the commitment long-term?

The commitment is a minimum of 3 months because I believe that long-term collaboration can bear the best fruit and I want to work with individuals who are committed and have a long-term vision. Only then, I can also dedicate myself 100% to each client and continuously look for the best solutions for them.
What happens after 3 months of collaboration?

If the collaboration is successful, we can extend it for another 3 months. If not, we will gratefully say each other goodbye. 🙂
What if I don't like your ideas?

I try to find the best ideas and strategies to develop for each client. And in a long-term collaboration, we get to know each other well enough for me to know what is suitable for each brand and what is not. Of course, I also encourage each client to do something new (outside their comfort zone) if I know it's really good for the long term. But the final decision is always yours.
What if I want you to design or make something for me that is not on the scorecard?

No problem. The scorecard is just for basic orientation and ideas. Other services, support, and help are available on request.